Weston State Hospital, formerly known as the Trans-Allegheny Asylum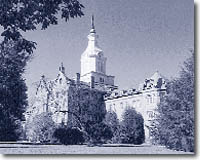 WESTON STATE HOSPITAL
A National Historic Landmark
for the Insane, stands vacant but proud along the banks of the West Fork of the Monongahela River in Weston, Lewis County, West Virginia. Vacated in 1994 when a new hospital was constructed nearby, the building is the focus of adaptive reuse and historic preservation of the Weston Hospital Revitalization Committee and the Weston Hospital Task Force.
The Hospital's History is many faceted. It is a fine example of the skills of its architect, R. Snowden Andrews, and of the Irish, Scottish, and German craftsmen who carved it's stone from the West Virginia countryside. It is inextricably tied to the history of the states of Virginia and West Virginia and the American Civil War; and it is representative of the development of mental health care in America.
Now the building is poised on the brink of a new life serving some other need. What that use will be is still unknown. Perhaps your visit here will have some impact in that direction.
We invite you to join us as we explore this building's past, present, and future.
Home | About WHRC | About WHTF | Hospital History | News | Tours | Preservation Efforts
Building Specifications & Engineering Studies | Photo Gallery | Virtual Reality Tour | Museums | Links Contact Us